Helping Culinary Entrepreneurs and Foodies Create Raw Desserts They're Proud Of
All levels welcome
Are you a conscious foodie who loves creating and eating healthy food?

Or maybe you've thought about turning your culinary passion into a business?

You love sweets, but you're unsure on how to make them free from dairy, sugar and wheat that actually taste great.

Or maybe you're the cook in the house and want to feel good about feeding your family nutritious desserts?

Are you sick of trying to create a recipe from a blog and just can't seem to get it right?

Or you're a baker looking for healthier options for you and your clients.
Introducing the Raw Desserts Chef Certification Course
In this online course you will:
Master all areas of raw desserts with lifetime access to the program.

Create gourmet layer cakes, chocolate, pastries, pies, tarts, dairy-free ice cream, garnishes and more!

Learn new techniques to improve your plant-based food business.

Source ingredients with supplier discounts to save you money.

Bank extra income from teaching workshops and selling your gourmet desserts.

Elevate your raw desserts with modern plating techniques.

Learn how to store quality ingredients properly so they last longer.

Confidently create your own unique raw desserts menu you can use for your own business.

Take professional style photos of your raw desserts to promote your business or build your Instagram following.

Receive personal feedback from a professional instructor.
24/7 Access Online Anywhere for Your Convenience
Why Raw Desserts Chef Certification?
Press play to learn more!
Including Exclusive Techniques
To elevate your raw dessert skills
Crusts free of dates for a lighter experience.

Healthy ingredients to create a "cakey" texture in doughnuts and cakes.

Produce a "baked" appearance and texture with dehydrated pastry.

Utilize tools to create multiple layers and entremet style cakes.

Professional, fun and textured garnishes for your desserts.

Raw fruit jams that are thick and full of flavor just like conventional jams!

Culture and ferment to achieve a "cheezy" taste in Italian style desserts and gut-healthy breakfasts.

Professional style finish on your raw chocolates with a special raw chocolate formula.

Specific methods and workflow for frosting and decorating layered cakes.

Creamy and airy plant-based ice creams.
What's Inside the Raw Desserts Chef Certification?
Curriculum Overview
Module 1: Course Introduction
> Welcome and tutorial video
> Course instructions
> Communication
> About your instructor
> Certification criteria
> Recipe manual download
Module 2: Lists to Help You Get Started
> Equipment and tools
> Shopping list
> Ingredient sourcing
> Discounts
> Ingredient substitutes
Module 3: Culinary Ingredients and Storage
> Sweeteners in raw cuisine
> How to emulsify & thicken recipes
> Storing your ingredients & Cakes
> Knowledge assessment
> Submit assignment
Module 4: Foundational Concepts
> Using your dehydrator
> Measuring ingredients
> Flavor balancing
> Double boiler method
> Activating nuts & seeds
> Foundations of culturing
> Guide to cutting your desserts and cakes
> Knowledge assessment
Module 5: Preparation Recipes
> Preparation recipes
> Sprouting
> Plant-based gelatin alternatives
> Raw sprouted gluten-free flours
> Knowledge assessment
> Submit assignment
Module 6: Create Beautiful Garnishes
> 7 high-quality instructional videos
> Textured garnishes
> Frosting recipes
> Piping tutorial
> Chocolate garnishes
> Knowledge assessment
> Submit assignment
Module 7: Healthy Breakfast & Snacks
> 12 high-quality instructional videos
> Nut-free dehydrated granola
> Low glycemic smoothie bowl
> Nut-free cake bites
> Foundations of fermentation
> Culture coconut yogurt
> Strawberry yogurt breakfast squares
> Plating techniques
> Knowledge assessment
> Submit assignment
Module 8 & 9: Gourmet Raw Chocolate Foundations & Advanced
> 22 high-quality instructional videos
> Chocolate 101 & Tempering
> Melting raw chocolate
> Enrobing your masterpieces
> Chocolate truffles
> Chocolate fudge
> Chocolate bars
> Knowledge Assessment
> Submit Assignment
Module 10: Dairy-Free Ice Cream
> 8 high-quality instructional videos
> Using an ice cream maker
> Plant-based ice cream
> Ice cream cake
> Ice cream cookies
> Knowledge assessment
> Submit assignment
Module 11: Plant-Based Cheesecakes
> 12 high-quality instructional videos
> Cheesecake technique level 1
> Cheesecake technique level 2
> Cheesecake technique level 3
> Using agar
> Decorating & plating your cakes
> Knowledge assessment
> Submit assignment
Module 12: Traditional Pies Turned Healthy
> 8 high-quality instructional videos
> Matcha key lime pie
> Banoffee pie with coconut cream
> Plating & decorating
> Knowledge assessment
> Submit assignment
Module 13: Stunning Tarts
> 6 high-quality instructional videos
> Date-free crusts
> Floral, fruity tarts
> Citrus panna cotta tarts
> Knowledge assessment
> Submit assignment
Module 14: Dehydrated Pastry
> 12 high-quality instructional videos
> Dehydrated cookies
> Chocolate doughnuts
> Cannolis & cannoli cookies
> Dehydrated dessert crepes
> Plating techniques
> Knowledge assessment
> Submit assignment
Module 15: Gourmet Cakes & Entremets
> 34 high-quality instructional videos
> Dehydrated fruit jams
> Frosting your cake
> Chocolate ganache drip
> Entremets
> Nut-free trifle
> Layered birthday cakes
> Chocolate cakes
> Ice cream cake
> Cake decorating
Module 16: Creative Recipe Writing
> Learn how to create and write recipes for personal use or your business using our step-by-step professional guidelines.
> Gain more confidence as a chef and business owner.
Module 17: Certification Submission - Create Your Own Unique Menu
> Using skills and techniques you've learned throughout the course you will create three raw dessert recipes and write them like a professional.
> This is a chance to really show how you've developed as a raw dessert chef!
> Plus, graduation bonuses.
Module 18: Monthly Live Session Replays
> Replays of all monthly live sessions including:
> Peer recipe demonstrations
> Interviews with successful business owners
> Piping and chocolate garnish tutorial with award winning pastry chef
> Recipe costing for your business
> Bonus recipe tutorials and more!
In Addition, You Will Receive These BONUSES
Valued at over $6,000
Chef Crystal's Bonus Recipe Module with Live Tutorials (Value $495)
8 bonus recipes with 5 live tutorials provided for your continued learning. Master a zebra cake, white chocolate drip, nut-free carob mousse cake, chocolate shells, and more dessert garnishes.
How to Create a Velour (Velvet) Finish on Cakes (Value $97)
Learn how to create a beautiful velvet finish on cakes and desserts. We have a developed a special natural, superfood formula that works every time. We show you exactly which equipment you require with links in different regions, how to clean the spray gun and all superfood color options.
Mini Food Photography Course (Value $197)
Grow your social media following with beautiful photos. We cover equipment, props, DSLR settings, style and composition, photo editing, shooting and editing with your phone.
Live Class Every Month! (Value $249/month)
Have a question or having trouble with a recipe? Learn with the instructor & guests LIVE through Q & A's, BRAND NEW content, interviews with successful raw dessert and pastry business owners and even participate in conducting your very own recipe demonstration.
How to Create and Sell Your Very Own Recipe eBook! (Value $49)
Everything you need to start and complete your eBook including: how to write your recipes, where to find templates and how to use them including a video tutorial, where to download professional photos for free and how to sell your eBook.
1 Full Year Membership to Raw Food Chef Alliance (Value $50)
After graduating the Raw Desserts Chef Certification program, you receive 1 full year membership to Raw Chef Alliance and option to upgrade to a Plant-Based Nutrition Fundamentals program.
Monetizing Your Raw Dessert Skills & Business Resources (Value $997)
Special business resources on how to create and sell a recipe eBook, prepare for and conduct recipe demonstrations, and learn how to efficiently cost recipes to maximize your profit. *NEW - Commercial food packaging presentation by a Packaging Engineer
Access to our Exclusive Student Community via the Facebook Group
Gain support from other students, stay accountable and connect with one another. The Raw Desserts Facebook Group provides so much value during your training and even after you have completed the program.
Imagine making raw desserts like this!
Sneak peek of final projects from our graduates
"A Course Beyond the Ordinary"
Tina Mejri, Plant-Based Food Blogger and Dessert Extraordinaire!!
"I, who neither speak nor write in English very well, saw this course online and in the next second I had purchased it. I do not regret it for a second. This was exactly what I needed to get inspired and get creative again. Crystal has done an absolutely fantastic course that lacks nothing. With my limited language skills, I could work without problems through all the course elements and participate in the live classes. Crystal is committed to each individual student and always provides feedback and help when needed. The recipes are so delicious and exciting to make. We learn how to independently create interesting recipes and flavor combinations. I really recommend this course to anyone who wants to learn all about how to make delicious desserts or someone who already works as a raw chef but wants to develop to the next level."
Tina Mejri's Final Project
Matcha Pistachio Rose Cremeux with Raspberry Jam
What Others are Saying About Crystal Dawn Culinary
"I Would Recommend Crystal's Courses to Anyone""
I recently started Crystal's amazing raw chef desserts certification program. I am so amazed at the valuable information the course provides. In addition, the online platform is very user friendly, and easy to follow. I have made some of the recipes from the course, for my coworkers; they are absolutely blown away with how healthy and delectable the desserts are. Also, I am learning so much, who knew raw plant-based desserts could be healthy and tasty at the same time. I would recommend Crystals course to anyone who has a passion for plant-based foods.
"I Could Not be More Satisfied with Crystal's Online Course!"
"I could not be more satisfied with Crystal's online course! Every time I have had a question she has always been so responsive. This course is really the next best thing to having her in your kitchen teaching you herself. If you want to learn how to make the most beautiful, healthy and best tasting desserts out there this is the place to be. She has continued to add value to the course even after I joined by added recipes and doing Facebook lives that are super interactive. As well has polls inquiring what we would like to see added. She really is all about her students and tailors the content appropriately and is so eager to answer questions. It's such a fun and educational community she has created of people from all over the world who share a passion for raw food."
"Crystal is a Wealth of Knowledge and Support!"
"My recent coaching call with Crystal was AWESOME! I had a TON of questions about my new plant-based food product business. Crystal provided a bunch of excellent resources that were easy to find and I was able to quickly implement into my business for immediate results. She was an absolute delight to chat with and is a constant wealth of knowledge and support! I would recommend Crystal and her program to anyone who's just starting out or wanting to up-level their culinary creativity with plants in the kitchen."
"The Power of Raw Food"
As a holistic health coach and healer, I've always recognized the power of raw food. I had the pleasure of learning from Crystal many different techniques one can use to create nutritionally dense, beautiful, and delicious foods! Over 3 days, I was fortunate enough to experience her exceptional creations. She also made it easy to understand how to balance flavours and ingredients, so I could create my own raw food at home. If you like to learn about your food and how it benefits your health, Crystal is very knowledgeable and passionate about teaching you how the synergistic mix of ingredients can fuel your body and mind, so you not only enjoy the taste, but understand the lifelong benefits. If raw food is in your future, Crystal should be too. You won't be disappointed.
"Crystal's Classes are Amazing"
"I learned a lot of creative recipes, became more professional and creative myself with cooking. Her clear voice and instructions made even complex recipes easy to learn. As Crystal is really passionate about plant-based food, I felt very motivated by her positive energy. She has lots of knowledge about nutrition and health benefits, which she shares during her classes."
"Crystal is Very Knowledgeable!"
I met Crystal in Summer 2019 when she was working as a chef at a vegan yoga retreat in Andalusia, Spain. Crystal is super patient and expresses a lot of joy when explaining things. It's easy to see teaching plant-based food is her passion. Crystal has and shares a lot of knowledge about vegan, raw and healthy cuisine and is good to see she has herself tried a lot of different things. We had a lot of fun and I hope to see her again one day.
"Raw Food has Always Been a Passion of Mine!"
Feeding my friends and family nourishing, wholesome foods is a passion of mine. When looking online, I discovered Crystal; she was amazing in letting me design my course. I did eight full days of raw dessert and nut cheese certification with her and learned decorating techniques and even some food photography!! Crystal explained why she used certain ingredients over others in recipes and offered her recommendations for top-quality ingredients. Not only is Crystal a great teacher, but she is an open book too! I enjoyed getting to know her and her family. If you're interested in learning more about guilt-free desserts, Crystal is a must!
This means by purchasing now, you receive
Lifetime access and go-at-your own pace
21 learning modules complete with video lessons, downloads, knowledge assessments, assignments and bonuses (Value $997)

Chef Crystal's bonus recipe module with live tutorials (Value $495)

Valuable LIVE classes once a month (Value $249/month)

Mini food photography course from Crystal Bonnet (Value $197)

Access to our exclusive student community via the Facebook group (Value $549 Annually)

Maximizing your profit with recipe costing for your business (Value $497)

How to create and sell your very own recipe eBook! (Value $49)

1 year membership to an exclusive community of other raw food chefs (Value $50)

Personal, constructive feedback on all your assignments from Chef Crystal herself! (Invaluable)
Frequently Asked Questions
How many recipes are included in the course?

35 full dessert recipes, plus 6 bonus recipes including 121 recipe components.

How long will it take to complete the course?

Course length is approximately 100 hours; it's up to you how much time you spend on the course. Students complete in as little as 3 months up to 10 months.

How long and when do I have access to the course?

We provide lifetime access so you can go at your own pace. You gain access to the program immediately after registration. Login to your account and view the course whenever you like. Even after you've completed the course, you still have access to new content.

I've never made raw desserts before; can I still take this course?

Absolutely! This course guides you through beginner modules to learn the fundamentals first.

How many videos are included in the course?

There are 116 instructional high-quality video lessons, plus assignments, theory, quizzes and much more!

What kitchen equipment and tools do I need?

We provide a full appliance and tool list along with where to purchase them to make setting up your raw dessert kitchen easy. Main appliances required are a high-speed blender, dehydrator and food processor.

I don't know where to buy raw dessert ingredients; will you help?

No problem! We make it easy for you with a list of vendors by region; currently, we provide a list for Canada, USA, Australia and UK with potential to expand. We also provide vendor discounts for you.

What if I can't source some ingredients listed in the recipes?

We know it can be difficult to source certain ingredients in different regions so we provide a substitution list.

Is there a money-back guarantee?

If you are really committed to up-leveling your raw dessert skills, this program is for you. Within seconds of registering, you receive access to the program in its entirety. While we do not provide a money-back guarantee, we accept all forms of feedback and work with students on an individual basis when problems arise in the areas of ingredient and equipment sourcing.
Featured In, Media & Press
See What Our Students Are Creating!
Coursework by Ruzica Krzalic, Tina Mejri, Inga Kaplan, Rasa Krokys and Farhana Shabbirdin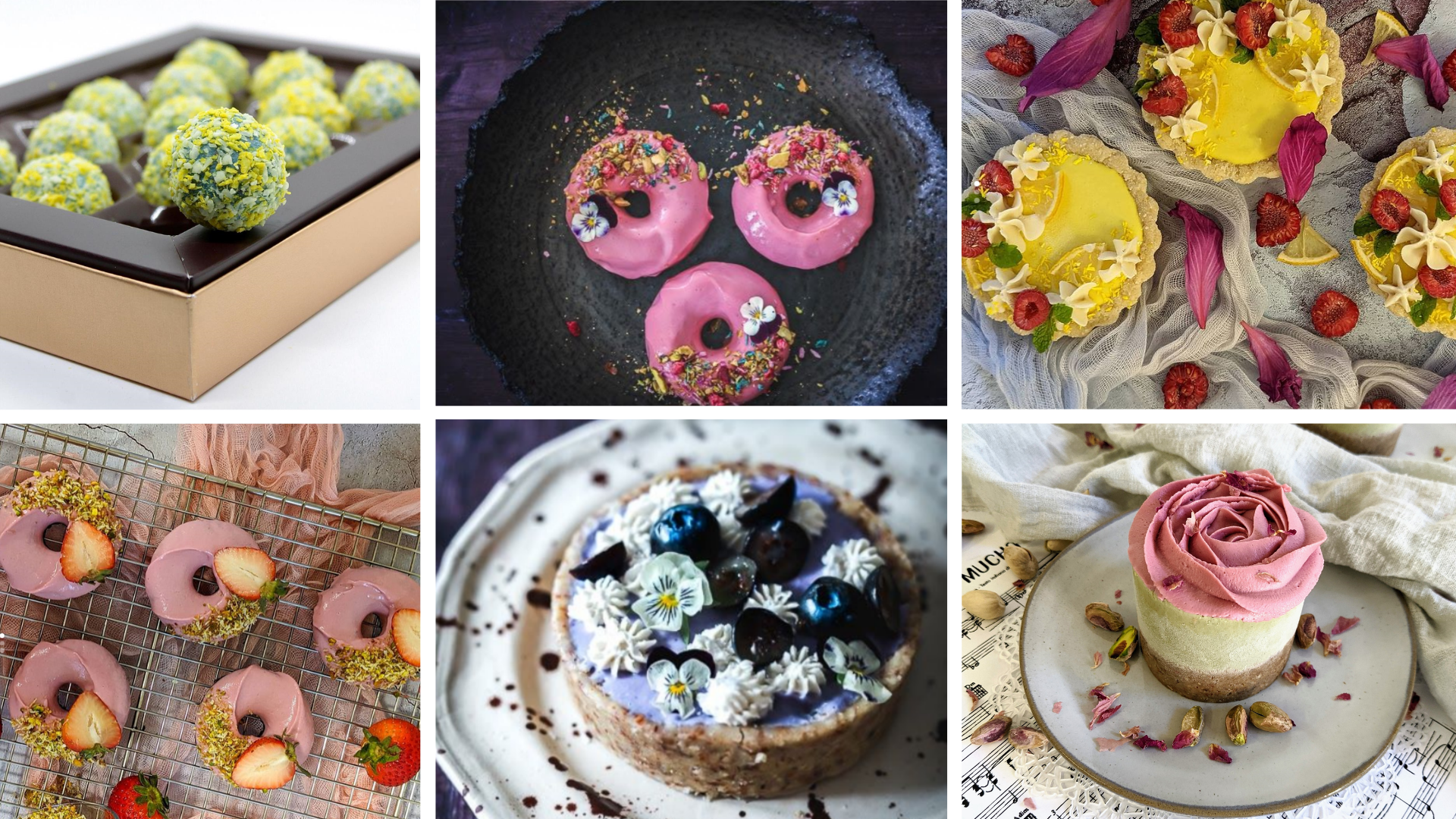 Hi, I'm Chef Crystal,
"With knowledge, anything is possible!"
No truer words were ever spoken, and these five words inspire and guide me to create. I am an International raw food chef, instructor, and cookbook author.

As a graduate of the plant-based and raw food nutrition programs at Matthew Kenney Culinary Academy and Pure Joy Academy, I have worked hard to learn the importance of the culinary aspect and nutritional elements of living foods.

My work within the plant-based culinary industry led me on many adventures, including the development of unique plant-based menus for new restaurants, designed and catered multiple health retreats and even launched my own raw chocolate and dessert business!

Through my easy-to-follow and comprehensive classes, let me share the knowledge and skills needed to incorporate healthy food alternatives into your lifestyle. You and your family will thrive, and this will be the greatest reward an educator can imagine.

Join me in creating raw desserts free from: gluten, refined-sugar, and soy. Not only will you feel better, but your family and friends will love indulging in your creations!
Testimonials From Our Graduates
"Crystal's Teaching Methods are Clear and Concise"
Aliona Doyle, Sole Proprietor, Vegan Infinity
"This was my first time to do an online course so I was a little apprehensive about how and if it would work but I have to say that it was a real pleasure to be a part of the course. Crystal's teaching methods are clear and concise and she delivers the course in a way that is easy to understand. She was always there and ready to help when I needed her and that made the course even better, to know that any question would be answered straight away. The social media pages allowed me to connect with other students on the course and it was so great to share our experiences together and learn from each other. The course included some surprise extra lessons and free videos which enhanced the learning experience even more so it surpassed my expectations and provided great value for money. Crystal - if you plan to do any more courses or projects, I will be first person in the line! Thank you so much for helping me to develop my skills and give me the confidence to keep going."
"A Perfect Avenue to Expand Your Cooking skills"
Kaitlyn Kinder, Founder, Rooted in Raw, Raw Food Chef & Nutrition Consultant
"Crystal's raw dessert course is one of a kind! A perfect avenue to expand your cooking skills and knowledge behind raw desserts. The recipes are super creative and offer learning opportunities for all levels of chefs. The website is user friendly and the videos and content are simple to navigate. Her instructions are super clear and all in all, I love her unique style of recipes. I would recommend this course to anyone who's interested in learning a variety of raw desserts!"
By not enrolling in the Raw Desserts Chef Certification course, you risk...
Purchasing expensive ingredients and not getting the results you want.

Spending a lot of time researching kitchen appliances confused on which brands to purchase.

Creating beautiful desserts with no knowledge or information on storing them.

Unable to source specific ingredients for a recipe and having no idea about substitutions.

Spending time creating and decorating desserts and not having them turn out like the recipe.

Not making the profit you deserve because you don't have the knowledge to cost your recipes efficiently.
I get it! You're unsure about online learning...
Which is why I'm here to help you succeed
With lifetime access and go-at-your own pace, there is no added stress of deadlines.

Receive support from me every step of the way. I personally love helping you with questions and mastering your coursework.

Receive personal feedback on all your assignments to ensure you're creating the recipes smoothly and troubleshooting any problems that arise.

Access a supportive, positive community of like-minded raw dessert chefs and feel supported through your entire journey.
What Our Graduates Have to Say
Hear directly from the students
"There are Just Too Many Good Things to Review About the Course"
Déborah Geissmann, Plant-Based Culinary Enthusiast
"I have enrolled in a couple of online courses in my life, but it is the first time that I feel so much presence and continuous investment from the teacher. Crystal has not only created wonderful content that she keeps expanding with great bonuses, she is also incredibly giving and supportive with everyone joining the course in a manner that goes beyond any expectations and making you feel to be in a physical class with her. This class feels so inclusive in many ways, as Crystal also takes much in consideration the opinion of her students. There are just too many good things to review about the course that the best I could recommend, is simply for you to join in and enjoy with us."